JAY WATKINS UNIVERSITY SERIES, VOLUME 5
LISTEN to the FISH
JWU 5, "LISTEN to the FISH", $34.95

| | |
| --- | --- |
| Order a DVD | Order on USB Flash Drive |
ENTIRE SET OF TEACHING TRIP SERIES LEGACY DVD VOLUMES 1-19
(on USB Flash Drive in MP4 video files)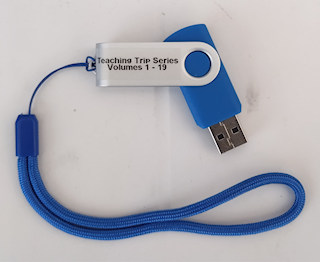 Each of the 19 Volumes contains the original DVD content and is appoximately 60 minutes in length.


$179.95



Blog Date: 2023-03-16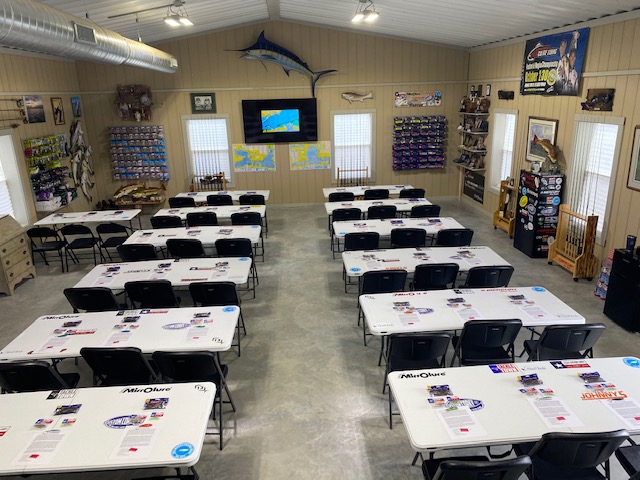 Nasty weather here all week long and it is going to get worse. Heavy rain with this early spring front that is due into the Coastal Ben around 5:00am on Friday morning. Northerly wind gust to near 35 mph and a 10 to 15 degree drop in air temperatures. Add the wind velocity and the rain and the chill factor might feel like temperatures are in the 40's. I'd rethink the fishing trip if I were planning one for this weekend. We need the rain for sure and rain seldom hurts us fishing wise along the middle to lower Coast. Fishing sucks for me here right now. yest there are red fish to be caught in our flats, but I primarily target trout and quality trout on top of that and those gals have been hard to pattern. Could be just me but thinking the weather and the lack of bait fish and bottom grass are trumping the lack of ability. I have my 2023 Spring Seminar on Friday March the 17th so with the current forecast it will be a good night to be warm and dry at WATLKINS LANDING. We are SOLD OUT for this event but there will be 3 more this year for sure. Watch your email for upcoming events. If you are not on my email list, go to Jay Watkins.com and sign up to get our notifications.
Like I said fishing has been tough this week due to high winds out of the ENE. That wind direction limits the area that we have to search so less water to look at typically equates to less fish found. It's going to turn around and get good for us as weather patterns stabilize. We are catching some solid trout here and there but no numbers of solid fish just yet. Stay tuned, I'll get them dialed in here soon.
Blog Date: 2023-03-03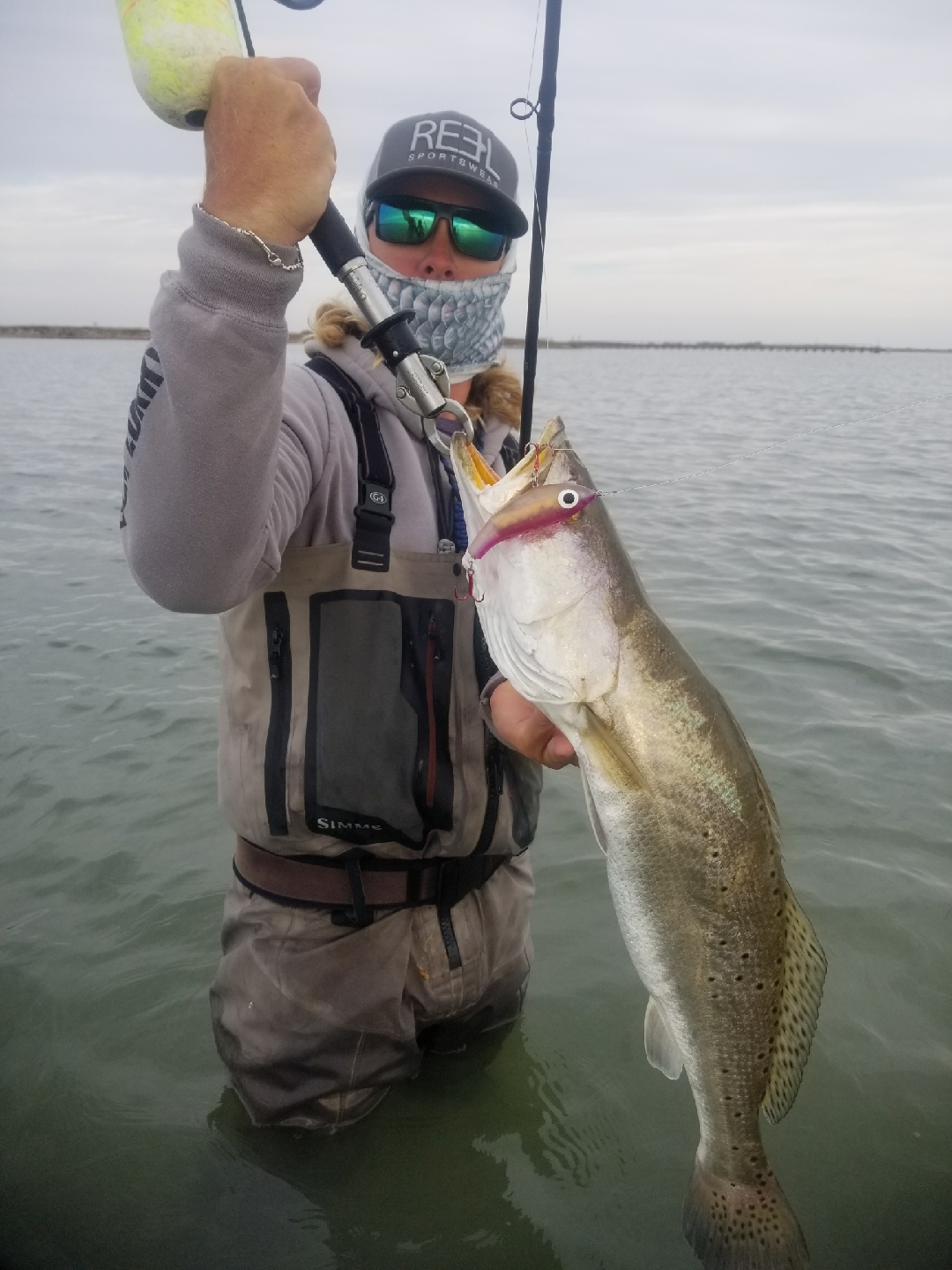 I am home from Port Mansfield and getting ready to get back on my home water. I cancelled today thinking it was going to really blow but it did not blow out of the north nearly as much as the weather forecast was calling for. Probably still a little tougher than normal due to post frontal high pressure setting in behind this weak front. Mansfield was good to us this year will some great days and good fish. Only a handful of fish over 7 pounds but lots of 4-to-6-pound fish on many days. Red fish seemed off a little this year in the areas that we were spending most of our time but that does not mean that we did not catch 8 or 10 most days. I had a couple of day that guys requested to go and chase reds after our trout bite slowed and, on both occasions, we quickly caught 10 to 12 solid reds to fill the void in between trout feeding sessions.
CUSTOM CORKY FLOATER and TEXAS CUSTOM/S DOUBLE D'S saw most of the water time the last 4 to 5 days that we were in Mansfield. These two baits will get lots of playing time in Rockport over the next few months as well. I am booking July through October right now so get em while they last.
Blog Date: 2023-02-26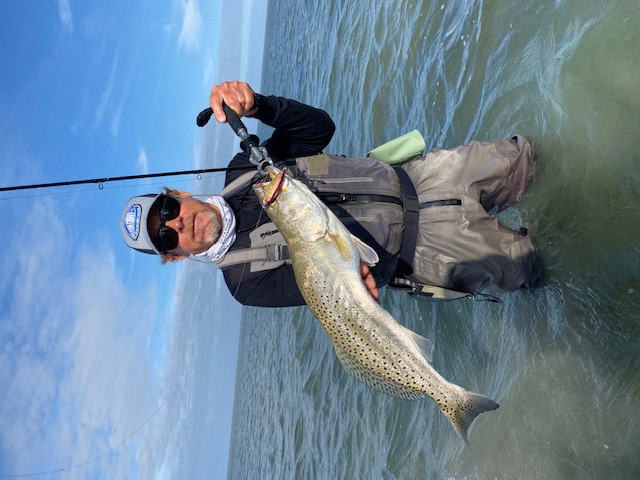 I am sitting here on Sunday the 26th of February watching a 25 MPH SE wind whip through the harbor here in Mansfield. I can't help but feel so fortunate to have had the opportunity for so many years to visit this small fishing community with my son Jay Ray. We love the people and the fishing here and continue to try and help preserve one of the last true trout Mecca's. If by some chance, we could get another two years of the current trout limits I honestly believe that we could see this fishery once again be elevated to what it was prior to the 2021 freeze. We have had a really good year here but trout over 8 1/2 pounds are still in lower-than-normal numbers. We have caught a few but not in the numbers we typically have found in the past. What we did see was an increase in the numbers of 3-to-6-pound fish this year verses 2022. Reds are still in good numbers despite the daily pressure they receive. The 3 fish limit allows the fish populations to keep up with the increased fishing pressure and state fish hatcheries play a huge role in yearly replenishment. I am going to miss this place that is for sure. Jay Ray and I finish up on Tuesday afternoon and will return to Rockport that evening. I guess I better get some packing done prior to our groups arrival so I will be able to get on the road as soon as possible Tuesday afternoon after fishing.
Blog Date: 2023-02-18
Spring is just around the corner. I am still in Port Mansfield, but this coming week will be our last. On Tuesday and Wednesday of next week the weather forecast is calling for 90-degree daytime temperatures your read it right, 90! We had lows in the upper 40's on Friday morning and upper 40's this morning I believe so hard to believe that 90-degree temperatures are headed this way. We are way south so I guess it makes some sense. Good week here last week with some really nice trout and as always, some good numbers of upper slot reds in the mix with our trout. We are catching most of the fish in thigh deep to knee deep water over potholes, small, submerged grass beds and large areas of sand flat with intermittent small grass beds. Last week the Texas Custom's Double D in PLUM NASTY, SEA GRASS and CROWN ROYAL were killer for my group but we got our confidence in the success of the lure on day one and honestly just did not take it off very much. Hard to catch them on something else huh? Custom Corky Soft Dine in TEXAS TURNIP was a great choice for Jay Ray and his guys, and we both continue to have good success with the MirroluJre Lil John XL in WATERR MELONG RED GLITTER, MOULTON and JUNE BUG. On days with 20 plus mph winds, JUNE BUG worked very well in the off-colored waters. The Custom Corky SEA GRASS FLOATER was good as well for us in the early morning hours. Just work it aggressively like you would work a top water. They'll push up and look at it and then smash it. Jay Ray has a ton of confidence in the Custom Corky floating series year-round so that is something WE all should put in our memory banks.
It'll be good to get back home with Renee and Macy and the grandkids for sure.
Blog Date: 2023-02-08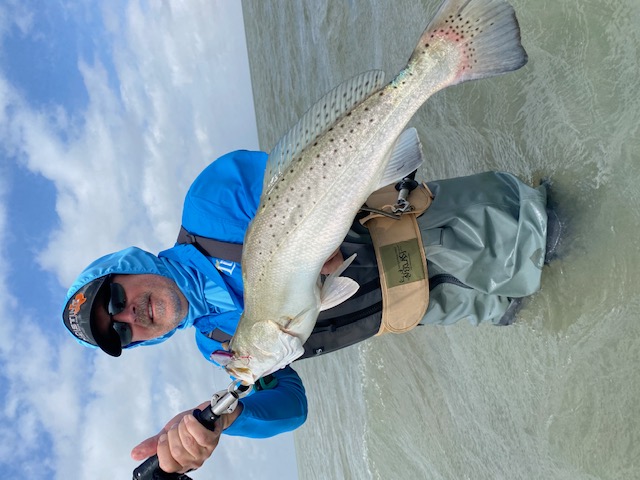 Thanks to all of you that signed up for the Jay Watkins Spring 2023 seminar on Marh the 17th at Watkins Landing. We are once again SOLD OUT. Attendees just might get the opportunity to hear BOTH JAY RAY and RYAN speak on some fishing patterns that they believe in during the spring months of March, April and May.
Weather is unpredictable right now. Today we had gusts out of the SE at 40 plus mph and winds were sustained at 30mph. Tides came up, so we had more protected water today. Water was surprisingly clean for the amount of SSE winds that we have had this week. Weather changing as of around midnight tonight with another strong front that is forecast to bring temperatures down into the lower 40's over the upcoming weekend. Tuesday through Friday look ok at this stage of the game, but this time of year weather patterns and predictions change daily so it is wait and see at best.
Good week in Port Mansfield with this last group. Trout pushing and right at 7 pounds this week and plenty of trout in the 3-to-4-pound range as well. Trout are being caught best on CUSTOM CORKY FLOATERS and SLOW SINKING FAT BOYS in PLUM NASTY, SEA GRASS, TEXAS TURNIP AND CROWN ROYAL. Texas Custom's DOUBLE D'S are still just Killin it on the upper slot trout as well. PLUM NASTY and CROWN ROYAL have been the best two colors for me. During off periods during the day the MIRROLURE LIL JOHN XL in WATERMELON RED GLITTER or JUNE BUG have been my go-to colors. MOULTON was really working well in January but has falling off a little in February.
The DOUBLE D and the TEXAS CUSTOM'S 1/16th oz. jig heads seem to shed a little of the floating grass that we have to deal with in this area of the Texas Coast. These are by no means WEEDLESS but by design these lures do seem to rid themselves of some of the floating grass as they swim through the water.
I have two weeks left in Port and then back to my home waters in Rockport. Hoping to see the shell reefs in the NORTHERN portions of ARANSAS BAY, MESQUITE BAY and SAN ANTONIO BAY. I am like totally booked up through the end of June, but I will be adding my July through December calendar to my website booking calendar as soon as I get some of my vacation time scheduled and confirmed. Thank you all for your continued support of all that I do in the fishing business.
Blog Date: 2023-01-31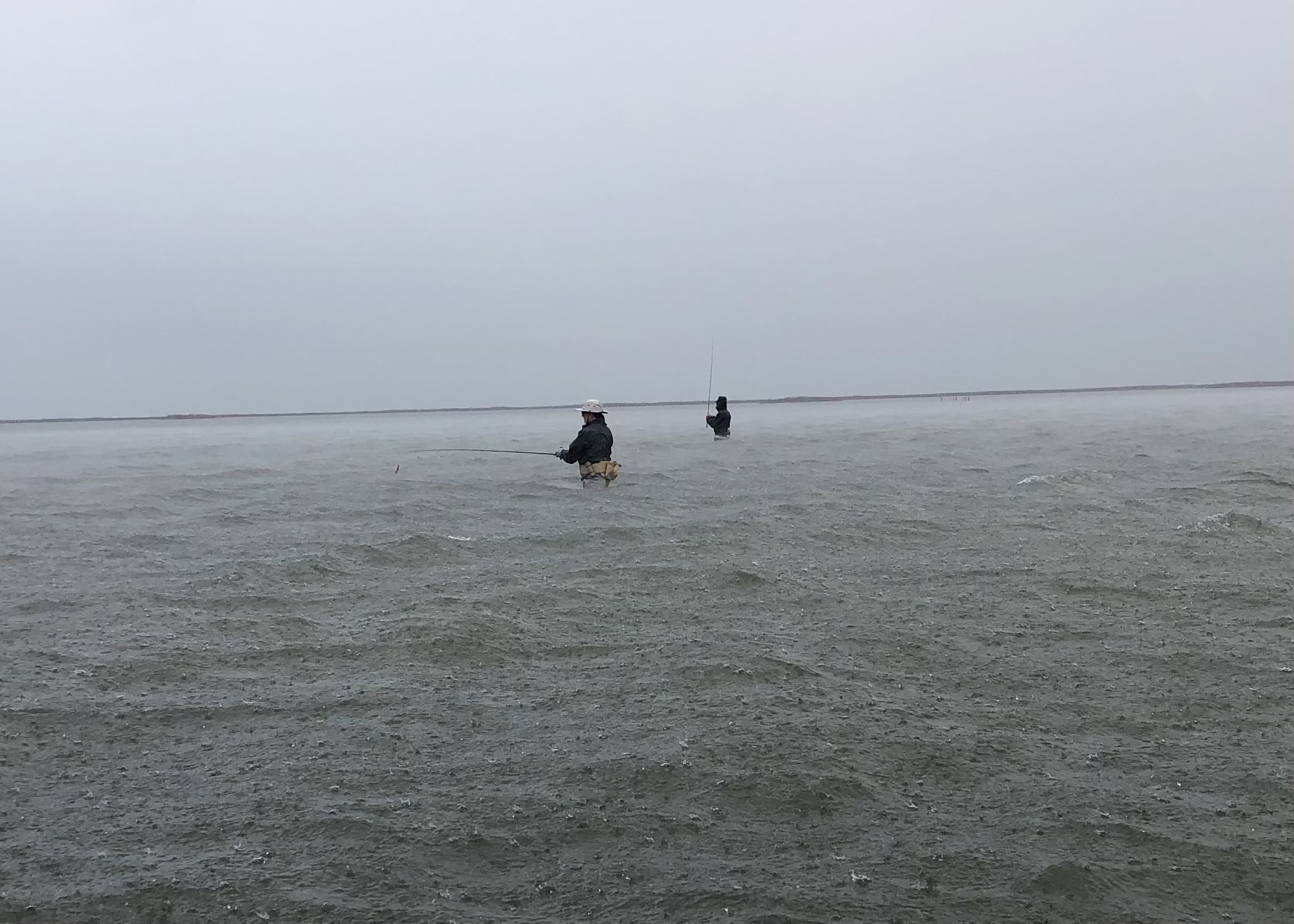 Can you believe that I have been a guide along the Middle and Lower Texas coast for over 42 years and in 2023 began my 43rd year. My very first fishing seminar was held at the Old Tackle Town that was originally right next to where the current Whataburger stands today. I honestly don't remember what year that was, but it had to have been in the very early 80's The winter of 2023 has me excited about the 2023 spring fishing in the Aransas, San Antonio and Corpus Christi Bay systems. The reopening of Cedar Bayou and the closure of oystering the guardian reefs of the Second Chain, Ayers, Beldon's Cedar and Carlos will once again provide anglers fishing in our North Country many options and multiple types of bottom structure to target. If you are a serious angler wishing to improve your fish finding and angling skills, you need to consider signing up. I am enjoying my new seminar facility at Watkins Landing, plenty of room and everything about the facility speaks of fishing. 80" of flat screen high-definition TV makes for easy viewing of the area we will be discussing. I cover the areas that I fish as well as other areas that might be of interest to you. On MARCH 17TH we will begin our second season of our seasonal seminars with our Spring Seminar, the first of 4 for 2023. You MUST sign up and pay in advance in order to secure a seat. Seating is limited to 35. You will need to bring a note pad, highlighters and a HOOK-N-LINE F-116 MAP. You will be given a free goodie bag of lures from my sponsors and the chance to win a free Custom Henri Jay Watkins Series rod, a value of 350.00. You will also be provided a light meal and drinks as well. Listed below are the details of the seminar and payment instructions. EMAIL me at jay@jaywatkins.com to get on the list and I will confirm via email when payment is received. LOCATION: WATKINS LANDING ADDRESS: 1622 W TWELFTH STREET, ROCKPORT, TEXAS TIME: 6:00PM TIL 9:00PM COST:200.00 PAYMENT: CHECK made payable to: JAY WATKINS 54 PRIMROSE DRIVE ROCKPORT, TEXAS 78382
Blog Date: 2023-01-20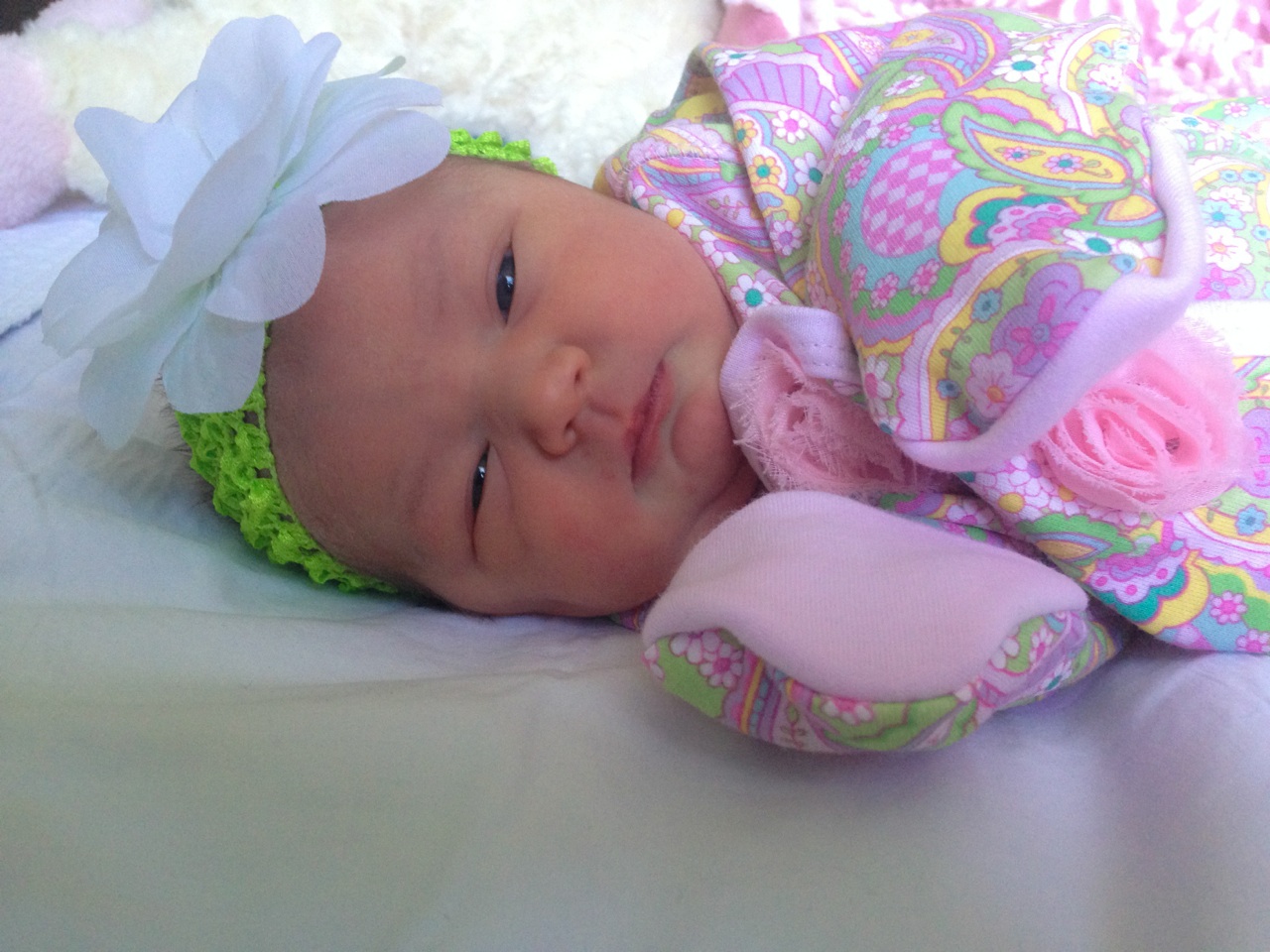 Nine years ago today, this miracle arrived into this world. Raylee Jay Watkins. Brings a tear to my eyes still today. Ryan and older brother Brody and of course mama Brooke were besides themselves as were all of our families. Today she is 9 years old and as beautiful today as she was then. RAY RAY, I hope you have the best birthday ever. Ne Ne and Grandpa Jay love you very much. I promise to slow down and start taking you on the boat and hunting more now that you are getting to the age where COACHING will stick and attention span will help you achieve the rate of success that is needed to create the WANT to return to the field. Of course this is just my thoughts and probably a bit of an eccuse for not being the best Grandpa just yet. Anyway, I love you very much and look forward to many years fishing with you.
Weather has not been very wintery has it. All the past two weeks we have seen air temperatures in the low 80's during the day and mid to upper 60's at night. Water temperatures have been as high as 74 degrees this January. We did have a slight cool down this morning and it is currently about 67 degrees outside with 15mph NE winds here in PORT MANSFIELD.
Fishing in Rockport should be good after the front but your window of opportunity is going to be small as yet another strong front heads our way for late Sunday through about Tuesday. 20 TO 40MPH winds are forecast prior to the front as well during the frontal passage, No time to be out on the bay for sure. Prior to the front I would look at the oyster reefs in CARLOS, CEDAR and BELDON'S area. With zero oyster boat traffic this year we are going to see better fishing around our reef structures. I will be working these areas when I get back to Rockport in March on days when the weather conditions permit.
We have been really having great success with MIRROLURE LIL JOHN XL'S in WATERMELON/RED GLITTER,MOULTON.BLUE MOON AND RED GOLD GLITTER. TEXAS CUSTOM'S DOUBLE D'S in PLUM NASTY and CROWN ROYAL have also been great lure choices. When it was cold and when it gets cold again; and it will, we will be throwing more CUSTOM CORKY'S and SOFT DINES in OS PEARL HARBOR, PEARL HARBOR, GRINGO, BAY MISTRESS, PLUM NASTY, PISTACHIO AND SEA GRASS.
Good luck and see you around the dock or on the boat when I get back from Port Mansfield in March.
Blog Date: 2023-01-13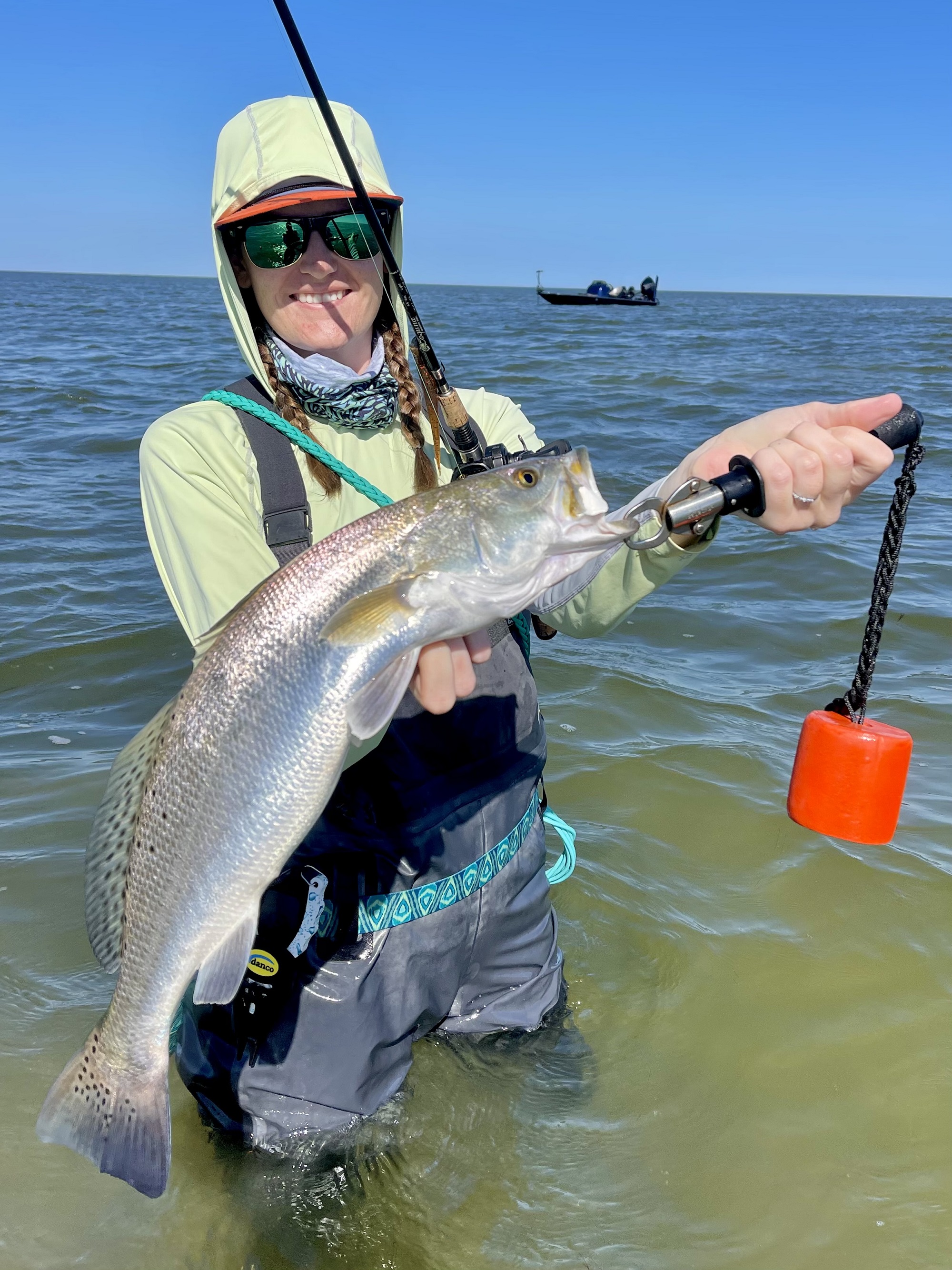 We are experiencing an unusually warm winter so far. It is true that December was the opposite but since December's 4 day freezing temperatures, we have been experiencing unseasonably warm temperatures. My first 2 weeks in Port Mansfield saw record daytime temperatures and water temperature's that jumped into the mid 70's on more than one occasion. When I left on Wednesday, we had 74-degree water and the air temperature was 85 degrees. Corpus Christi broke an all-time record high that week as well with air temperature bumping 85 degrees. All that said, fishing has been really good in Port Mansfield so far. Only a handful of fish over 6 to 6 1/2 pounds but decent numbers of 4-to-5-pound fish when I put my guys on them. Red fish continue to thrive in this fishery, and many are the days that we actually become frustrated with their presence. Sounds crazy to not want to catch 7-to-10-pound fish but that we are on some days. I am focused on fishing in areas where I am finding consistent amounts of mullet. The December freeze killed tons of mullet in the Port Mansfield harbor, but I saw zero game fish when I arrived, and I have yet to see a dead trout or red fish out in the bay itself. I am sure there were a few here and there, I just did not see them. Same was true in Rockport for the most part, very few if any dead trout and reds that we saw. POC was a different thing, shallow back lake trout took a hit once again but to be honest this is not uncommon for lakes in that area that harbor slightly deeper water than those lakes to the South of POC. I saw very few photos but had good intel that supported the reports.
We are hoping fo0r cooler and even colder water temperatures over the next 45 to 50 days. Lower water temperatures and lower tides help concentrate both game fish and bait fish which makes it easier to locate. Catching is always dependent on weather conditions and skill set of anglers but at least we feel confident in the locations we are in. I have been throwing CUSTOM CORKY'S and CUSTOM CORKY SOFTDINES and TEXAS CUSTOM'S DOUBLE D'S in the early morning or very late afternoon hours and then throwing MIRROLURE LIL JOHN XL'S during the mid-day hours. My best fat boy colors have been PEARL HARBOR, GRINGO, OS PEARL HARBOR, PLUM NASTY, BAY MISTRESS and SEA GRASS. Custom Corky FL or (FLOATER SERIES) are great choices as well and will be productive in shallow and slightly deeper water depths just like the original Custom Corky Fat Boy series. When it comes to the MIRROLURE LIL JOHN XL series of SOFT PLASTICS, I usually have WATERMELON/RED GLITTER/ MOULTON, GOLDEN BREAM or RED /GOLD GLITTER in my box when fishing clear to sandy green water. JUNE BUG will shine in the dirty stuff for us when we have to fish it. I still trust the TEXAS CUSTOM'S 1/16TH OZ. JIG HEADS in SILVER, black/gold glitter or my favorite, Watermelon/red glitter. The 2/0 short shank hook is an absolute beast in fish are hooked in the hinge of their mouths. Low damage rate and extremely high success rate when landing big trout. I have been using the 2/0 short shank hooks for more years than I can remember and seldom have they let me down.
I hope this blog update finds all of you doing well and feeling happy. Hope you are getting some fishing time with family and friends as well. If you can see your way to continue to release the trout, the numbers will continue to rise, and good fishing will once again return to great fishing. Below is my response to my Trip Request clients when I confirm their request.
I have added you to the date requested online. Thanks a bunch, for your continued support of my business and passion. Email me a few days prior to the day to get TIME/PLACE for DEPARTURE. We are still practicing CATCH and RELEASE due to the freeze of 2021 but we are detecting a faster recovery because of this unselfish act. We appreciate your support in aiding in the recovery of our/your fishery. Thanks Jay Watkins Sr and Jay Ray Watkins Jr.